COVID-19 Info
ATTENTION PATIENTS AND VISITORS
Thank you for your patience as we work to comply with the "Safer at Home Level Orange" guidelines.
If you have a fever, cough, or shortness of breath we respectfully request that you call your Primary Care Provider. Do not enter our building.
We are requiring everyone to wear a mask throughout your appointment in our office.
We will be taking your temperature once you enter the building.
Appointments are being managed to allow for physical distancing between patients. This might mean that you are offered fewer options for scheduling your appointment.
You are welcome to text us at 242-8162 from the parking lot. We will text you when your treatment room is ready.
Appointments are required at this time.
Do not bring anyone else to your appointment if possible. They may be asked to wait outside, as we are limited on how many people may be in the office at time.
We are ultra-vigilant in keeping our building clean, utilizing the best cleaning products with effectiveness for all germs and viruses.
We encourage you to wash your hands regularly throughout the day as well as utilizing hand sanitizer.
As always use your best judgment and make good decisions. This will play a huge role in your safety and well being.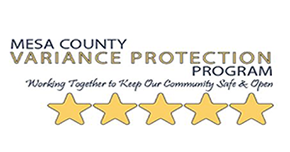 The health of our valued patients and staff is of top priority! We continue to implement cleaning procedures in order to best treat you in the safest way possible.
In accordance with the Mesa County Public Health and Grand Junction Area Chamber of Commerce our business has received a 5-star rating in the Variance Protection Program for implementing all public health procedures relating to COVID-19.